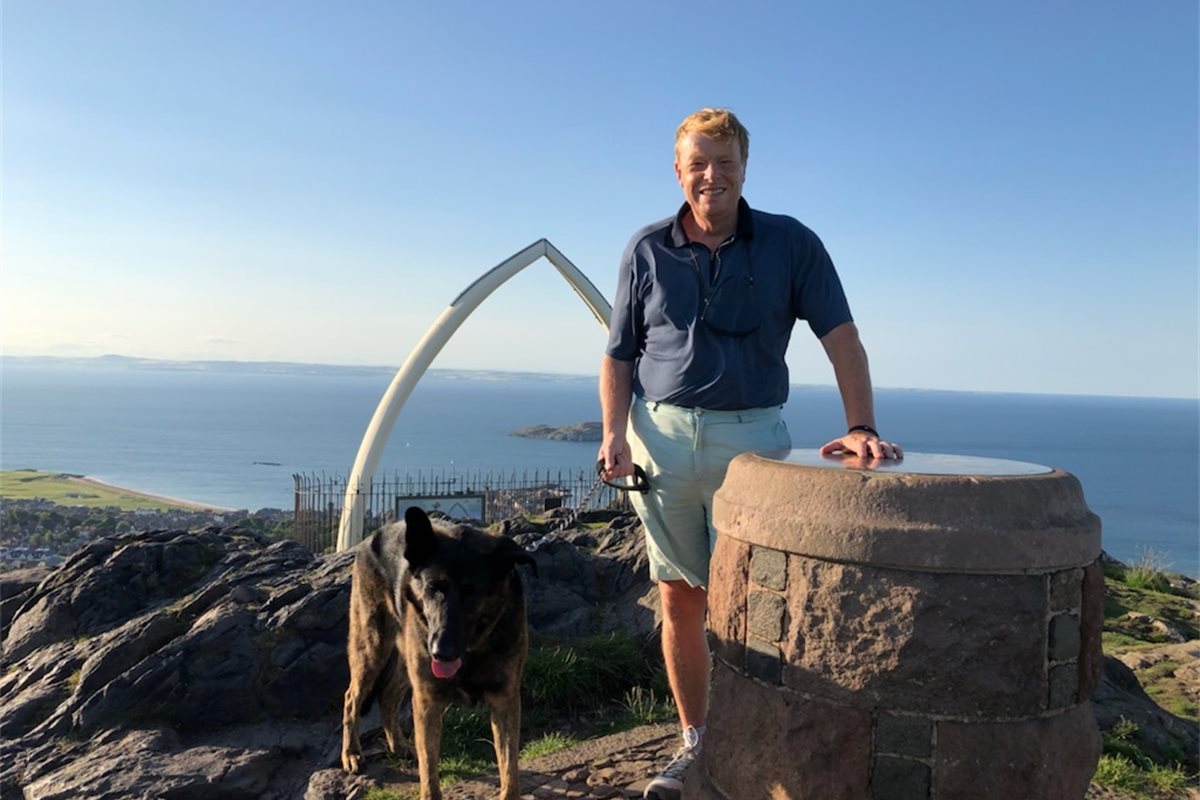 Politicians and Their Pets: Harry Cartmill and Corey
Harry Cartmill, West Lothian union adviser, introduces us to Corey the dog.
Raise? German shepherd
Age? Eight
How long have you had it? Since he was three months old
Where did you get it? I adopted him from Dogs Trust West Calder. I lost my 10 year old German Shepherd, Chubb, very suddenly in early December 2012 – adopting another dog was the last thing I thought about after this deeply unexpected death. But as an active Dogs Trust volunteer, just two weeks later the manager called me to tell me that a noisy German Shepherd puppy had been handed over and that I would be at all interested in him. After some thought my aunt and I came from Bathgate in a snow shower and fell in love with this puppy.
What can he do? It is a wonderful companion, both at home and on our days of golf or climbing together.
What do you like about him? He was there for me during the family bereavement and when I received grueling cancer treatment, but luckily succeeded. I was determined that despite my illness, I would recover and climb again peaks like Tinto Hill and Ben A'an and play golf with my best friend Corey. I truly feel my recovery was boosted by his presence – just seeing him when I finally got home from the hospital was deeply moving and his heartfelt encouragement made me step out into the sun and build my strength.
What special talents does he have? He's trying to vocalize – really! Sometimes almost forming words.
What's his best tip? He makes an incredible crocodile impression while eating spaghetti.
What are his most annoying habits? He is not the friendliest with other dogs.
What's the worst thing he's done? Spilled ornaments when someone came to the door.
Do you see yourself as a parent or a pet owner? A pet parent.
What's the most ridiculous thing you've bought or made for your pet? I bought her a Christmas tank top.
What is your first animal or animal memory?
My deceased parents had a beautiful fox terrier called Kim before I was born. She lived until I was nine. As an only child, Kim was the best companion I could have asked for.
What was the first pet you had? I had a Dutch Chain bunny called Beauty.
What would be your dream pet? Corey is so!
If you could be an animal what would you be?
I would be a swallow. I would enjoy our spring, summer and fall weather here in Scotland and then escape our terrible winter in South Africa – who is smarter, us or the swallows?